TONY LEUNG
Actor

Maintenance carried out
By Xavier BAERT
on October 13, 2004
with the Hotel Costes, Paris
Photos by Guillaume SQUARES
Thanks with Michel BURSTEIN



Actor fetish of Wong Kar-Wai (2046 are their sixth joint film), Tony Leung also played under the direction of John Woo (Bullet in the Head, Hard-Boiled) and Hou Hsiao-Hsien (The city of Saddness, Flowers of Shangaï). He is today one of the most popular actors of Eastern Asia.



Objective Cinema: In 2046, you include the role of Chow Mo-wan, which you had already played in In the Mood for Love. For you, as an actor, did it act just of a continuation or was this something again and of different to interpret?



Tony Leung: For me it was something of different, and that represented also a challenge. Because although I play the same character, Wong Kar-waï asked so that I play it differently. It wanted that I treat it like a new character, it wanted that I do of it something of really different from Mo-wan from In the Mood for Love. I thus found that rather interesting, but it is rather difficult. I was to try to work very intensely on the language of the body, the gesture, the tempo, the manner of walking. In this manner, I could feel that the character had changed. But it is difficult, because one finds in 2046 the subconscious of origin of Mr. Chow, and when one plays, one is not inevitably conscious of the way in which one moves.



Objective Cinema: It is known that Wong Kar-waï turns without script. How work engage does? Is this with a gesture, a feeling, a situation?



Tony Leung: I think that that starts with the gesture, and the movement, I believe. For 2046, the moustache helped me also much, to feel the difference with the character of In the Mood for Love. Kar-waï insisted that I carry a moustache. It thought that it would be a help not to have the same face - even if I did not believe that it would be possible.



Objective Cinema: In which direction is this a different interpretation, between these two films, between two periods of the same character? The Mo-wan of 2046 is perhaps more cynical.



Tony Leung: Yes, more cynical. In In the Mood for Loves, Mo-wan very seems to tend, slow, its movements are soft. In 2046, it is not the same thing, it is harder, and more rapid.



Objective Cinema: Do you work in this manner with other realizers in Hong-Kong? Or is Wong Kar-waï the only one to work like that?



Tony Leung: I believe that Wong Kar-waï is the only realizer to be worked like that. The other realizers discuss much before turning, you have a script, you work above, you can create your character as well from the point of view of his appearance as from the psychological point of view. But with Kar-waï, you cannot about what work. You do not have history, you do not have script, you know some very little about the character. You create your character taken after catch, you develop it day after day, as taken in the everyday life. You do not know what will occur the following day. You must thus feel the character, to make the experiment by yourself of it.



Objective Cinema: It is also a manner of living with film, this way of working, because you make of it the experiment in the duration of your own existence, of your existence as an actor.



Tony Leung: Yes.

Objective Cinema: The melancholy is one of the great questions of Wong Kar-waï. It is very striking in Happy Together, but all its other films are very clear on top. Do you try to express something which is in relation to this feeling?

Tony Leung: Not. I do not envisage it, I never think of it.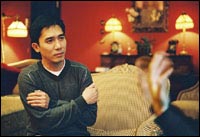 Objective Cinema: However, for me you are really the actor, in any case the figure of the melancholy.



Tony Leung: Many people think it. But I do not do it intentionally.



Objective Cinema: Even in films of action of John Woo, very spectacular, you work with a great saving in means. For example, concerning the face, it is as if you remove all the feelings from them to just express of them one or two. Does that correspond to your manner of working?



Tony Leung: I try to use less possible technique. I do it intentionally, and in particular for Wong Kar-waï. One can see that I do not use any technique in his films. I just try to feel the things.







Objective Cinema: I have some images at the head, as in 2046, your manner of not looking at the chart which Gong Li shows you, or when, at the end of Chungking Express, you discover Faye Wang in the restaurant. There, you express a great intensity by the surprise, the suspension. One finds film film this manner of working on the suspension, which makes the feeling so intense. One still when you discover Leslie Cheung wounded, in Happy Together...



Tony Leung: There either, I do not do it intentionally. I believe that Wong Kar-waï captures particular moments.



Objective Cinema: More like anybody that as actor, then? Is this something which it particularly seeks during turning, this moment of truth of the person?



Tony Leung: I believe that it observes me much in the life of tous.les.jours. Thereafter it can reveal or explore something which it could perceive.



Objective Cinema: In France, you are associated a golden age of the Asian cinema. I remember to have discovered almost at the same time films of John Woo, Wong Kar-waï or Hou Hsaou Hsien, for example. But for you, as an actor, which is the concrete difference between turning for Wong Kar-waï and John Woo, for example?



Tony Leung: John Woo is prepared better when it arrives on turning. Sometimes, it is very difficult to make compromises with him. When it insists that you do something, it should be done, and with its manner. Kar-waï seems more flexible, it gives you much space and freedom to create your own character. It is the greatest difference in their manner of putting in scene.

Objective Cinema: Infernal Affairs, the film of Andrew Lau, left to France, a few weeks ago. A little the same manner as in the diptych of Wong Kar-waï, one has the impression which you take again a role very close to that of Hardboiled of John Woo, whom you played a few years ago, but that you interpret it in a different way, a character more tired, perhaps.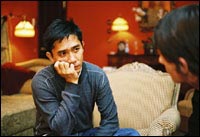 Tony Leung: I really wanted to play it differently. When I turned Infernal Affairs, that really revived the memory which I had of Hardboiled. It was very difficult to take again this character, whom I returned tired very. But above all, I wanted to make of them somebody of very optimistic. If it were not optimistic, it would have become insane at the end of two months! I wanted to smile permanently in film, even if I wished at the same time as it is very tired.



Objective Cinema: How the film was received with Hong Kong?



Tony Leung: It is a great success. It seems that people think that it acts of something of mainstream. It is what also think of the realizers very mainstream.



Objective Cinema: Here, the cinema of Hong-Kong is also looked like a cinema of avant-garde, a cinema of research, on the assembly, the body, on the gesture, on which Wong Kar-waï inter alia works with much intensity. Which glance do you relate today to the course which you carry out together, since Days of being wild, fourteen years ago?



Tony Leung: I think that 2046 are the best film of this kind than one can realize. Now we want to go towards something of different. We think of a film of action, a film of kung fu, more precisely. For the moment, we reach simply the stage of the discussion. But I believe that it is the best thing than we can make today, compared to the films which we made until now.

----------------

Original article was in French which can be found at:
http://www.objectif-cinema.com/interviews/341.php

Translated by: http://babelfish.altavista.com/